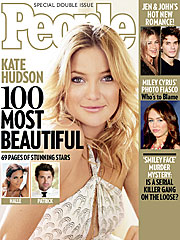 Twenty nine year old Hollywood actress Kate Hudson is People Magazine's 2008 most beautiful people in the world. The complete list of the result is revealed in the most anticipated upcoming issue of People Magazine to be released this month. You can also order your own copy of the said magazine on People Magazine's official website.

Check out the initial list of People Magazine hot picks below.

1. KATE HUDSON, an American film actress who came to prominence in 2001 after receiving an Oscar nomination for her role in the drama Almost Famous, and has since established herself as a Hollywood lead actress, starring in several films, including How to Lose a Guy in 10 Days, The Skeleton Key, and You, Me, and Dupree.


3. MARY J. BLIGE, an American R&B, soul, and hip hop soul singer-songwriter, occasional rapper, record producer, actress, and hip hop icon widely known as the "Queen of Hip Hop Soul", and has also received over 26 Grammy Award nominations for her work, winning eight, also awarded the World Music Legends Award for combining hip-hop and soul together like no one else during the early '90s.

4. RUMER WILLIS, the 19-year-old star American actress, who is the daughter of actors Demi Moore and Bruce Willis.

5. SARAH SILVERMAN, an American comedian, writer, and actor sometimes credited by her nickname Big S. Her satirical comedy addresses social taboos and controversial topics such as racism, sexism and religion.

6. CHRISTINA APPLEGATE, a 36-year-old American Emmy Award-winning, Tony Award- and Golden Globe- nominated actress, particularly well-known for playing the very attractive, promiscuous, dim-witted Kelly Bundy on the Fox television network sitcom Married… with Children.

7. EVA LONGORIA and TONY PARKER, They're one of PEOPLE's Most Beautiful couples, but the Desperate Housewife – known for her knockout red-carpet appearances – looks the best when she's low-key, according to her husband.

8. SLA FISHER, an Australian actress and author best known for her role of Shannon Reed on the Australian soap opera Home and Away and for her role in the 2005 comedy Wedding Crashers opposite Vince Vaughn and Owen Wilson

9. AMANDA BEARD, an American Olympic swimmer and model. Her modeling work has included the 2006 Sports Illustrated Swimsuit Edition and a n*de pictorial in the July 2007 issue of Playboy.

Amanda Beard Image



10. THE GOSSIP GIRL CAST, onscreen, they are gorgeous, scheming, backstabbing high schoolers. Off-screen, Blake Lively, Chace Crawford, Ed Westwick, Jessica Szohr, Penn Badgley, Leighton Meester and Taylor Momsen are still gorgeous but somewhat kinder to one another.

11. JULIANNE MOORE, a 48-year old four-time Academy Award-nominated, Emmy- and Golden Globe-winning American actress, who hated her flame-red hair.

12. JASON TAYLOR, an American football defensive end for the Miami Dolphins of the National Football League. He was originally drafted by the Dolphins in the third round of the 1997 NFL Draft.

13. VANESSA HUDGENS, the 19-year-old star of the High School Musical movies. She will also be in the upcoming movie Will. Her sophomore album, Identified, will be released June 24, 2008.

14. TAYLOR SWIFT, a 19-year old Grammy-nominated country singer who made her debut on the U.S. Billboard country charts with the release of her debut single "Tim McGraw".

0 Commented, Add Yours:
Recent Posts