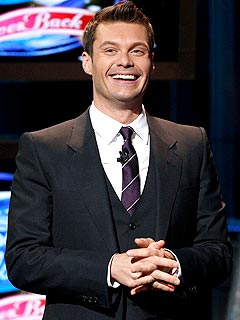 Ryan Seacrest Donates His Paycheck to Idol Gives Back Charity. The American Idol host Ryan Seacrest was in a charitable mood Sunday night. In addition to hosting FOX's Idol Gives Back special, the host also handed over his paycheck for the evening.

A source close to Seacrest tells PEOPLE that he wanted to show fans that he was serious about the cause.

"When he and Simon went to Africa last year and saw the children, it was really life-altering for him," says the source. "He just knew he had to do his part and be willing to put his money where his mouth is."

Idol Gives Back, which also features appearances from Brad Pitt and Miley Cyrus, airs Wednesday on FOX.

Written by Julie Jordan at People.com

Watch out American Idol Gives Back episode on Wednesday, April 9, 2008 from 7:30 PM to 10 PM ET/PT. During this episode, no one will get kicked off the show. Instead, Idol Gives Back will be a musical celebration to raise money and awareness for U.S. and international charities. Numerous celebrities are scheduled to participate, including Bono, Brad Pitt, Reese Witherspoon, Miley Cyrus, Eli Manning, Peyton Manning, Mariah Carey, Robin Williams, Celine Dion, Forest Whitaker, Billy Crystal, Dane Cook, Kiefer Sutherland, Fergie, Chris Daughtry, Carrie Underwood, Annie Lennox, John Legend, Snoop Dogg, Maroon 5, Heart, Gloria Estefan, Vanessa Hudgens, Ashley Tisdale, Jennifer Connolly, Elliott Yamin, Fantasia and Amy Adams.
0 Commented, Add Yours:
Recent Posts